Books by Raymond Elias Feist
As an added value, you find here scanned covers of UK paperbacks. Most of the time I find them better than of US editions ;-) . Click on a picture to view larger version (usually 120-180 KB).
I have to add that Rage of A Demon King and Shards of A Broken Crown weren't published at the time of the creation of these pages (my debt!)
---
Riftwar
| | | |
| --- | --- | --- |
| | | |
| Magician | Silverthorn | A Darkness at Sethanon |
These books are wonderful. The most strong (in my opinion) is Magician while others are less impressing while still making a great reading. Many great things of primary importance happen in Magician, and it is a must-read to get the best understanding of what happens in Midkemia. Many scenes are simply breathtaking. Sometimes I do not believe that someone could write such a gripping story (or, using REF's term, 'ripping yarn' :).
Silverthorn stands a bit aside telling the tale which isn't tightly connected to the rest. Nevertheless, I love this book which tell us a tale about a voyage to the enemy's host and returning alive. Even book title proves its worth. Do you have the taste of the word on your lips?
In Darkness at Sethanon many dark and mysterious events take place. Riftwar saga ends here; the enemy is defeated, Kingdom continues to prosper etc.
I have to admit, though, that I read them long ago (recently I started Magician for the second time), and my rememberings are dimmed by years. I ought to write more on this when I'll read them again (shouldn't take too long).
---
Between Riftwar and Serpentwar
| | |
| --- | --- |
| | |
| Prince of the Blood | The King's Buccaneer |
---
Serpentwar
| | | | |
| --- | --- | --- | --- |
| | | | |
| Shadow of A Dark Queen | Rise of A Merchant Prince | Rage of A Demon King | Shards of A Broken Crown |
In Serpentwar saga, the world is again threated by Pantathians. However, as it becomes clear at the end of the Rise of A Merchant Prince, there's another force in play, and we (excluding Raymond Feist, of course) do not know yet what is it. So we are all waiting for the next book, Rage of A Demon King.
Shadow of A Dark Queen starts the story and introduces heroes of the Serpentwar. Comparing to Riftwar plot, it looks rather shallow and many people have said that SoADK isn't the best REF's book. I have to agree with this opinion, but nevertheless the book is still highly enjoyable.
The story in Rise of A Merchant Prince evolves around two places: Krondor where Rupert Avery becomes trade magnate and continent of Novindus where Erik and others try to destroy Pantathian nest. Unfortunately, scenes at Novindus look a bit pale and shortened. The main protagonist, Rupert, looks greedy, cunning and lustful fellow; this point caused great debates over the success of the book. Many have said that the main protagonist should at least be likable, if not ideal. I would like to offer my opinion here: Raymond tried new waters making the book with imperfect hero. In some respects, he overextended himself (I cannot describe relations between Calis, Pug and Miranda in other word than nonsense), but Rupert character looks presented brilliantly. In contrast, Erik is just plain perfect hero who saves the world... But Roo is a real guy, with many imperfections, plagued by hard childhood but still good one. This makes the book very realistic.
---
Empire trilogy (with Janny Wurts)
| | | |
| --- | --- | --- |
| | | |
| Daughter of the Empire | Servant of the Empire | Mistress of the Empire |
Things happen in the world of Kelewan, a world across the space and time to Midkemia
---
Dark Fantasy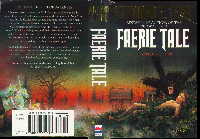 Faerie Tale
I liked Faerie Tale. Feist hasn't dropped a bit of his enthusiasm and liveliness; hours pass by as you read and you won't notice. In general, I don't read horror novels, but that one is good! The story is set around celtic myths melted into modern life. Rather weird and terrifying combination, I have to say; you'll learn that myths speak not only of good but also of great deal of dark evil. By the way, I believe Raymond described himself in screenwriter Phil Hastings.